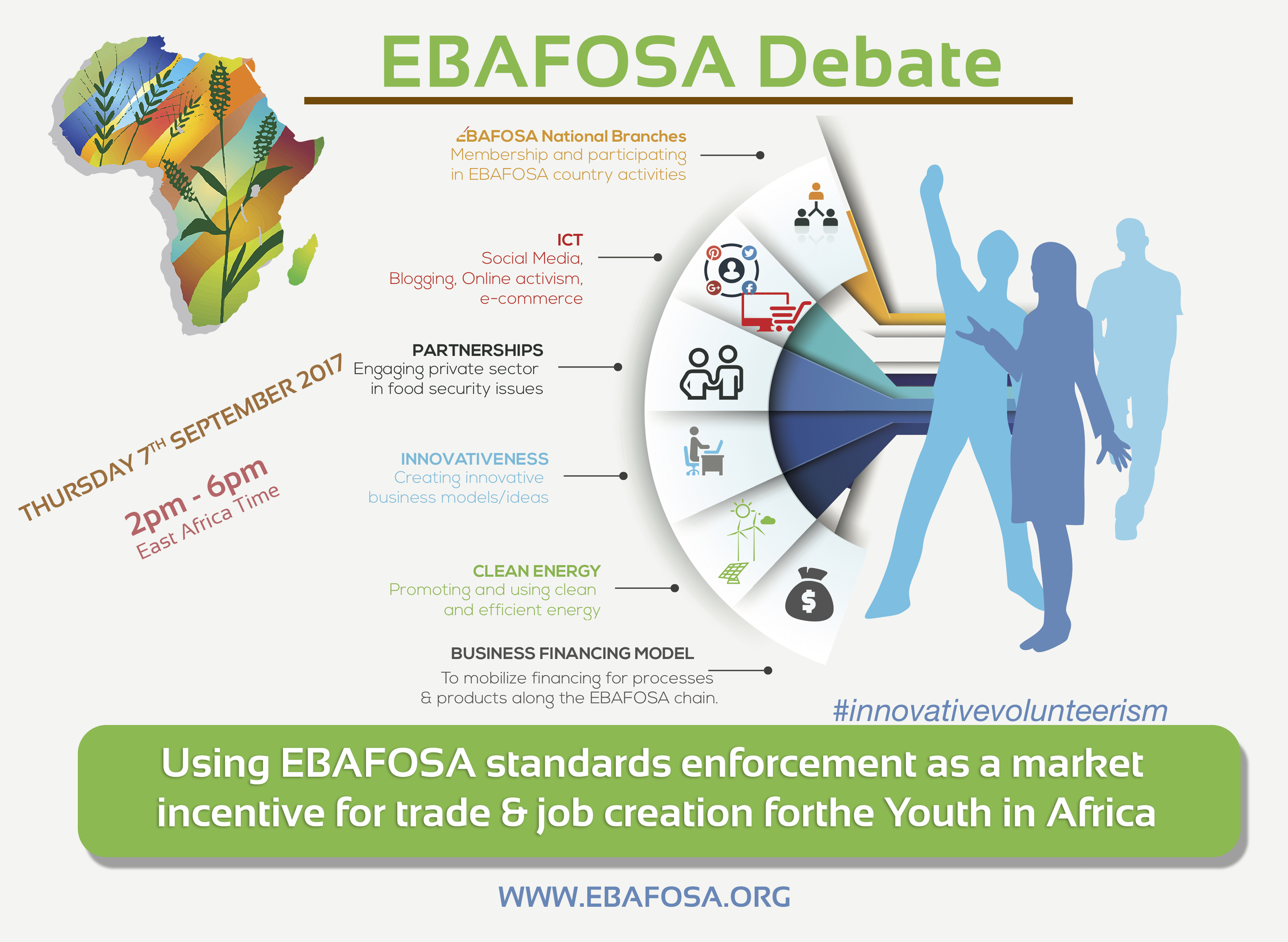 Standards are critical for quality control which is a prerequisite for producing competitive products & services that can fetch a market, catalyze trade and accelerate job creation. But such standards are as good as their level of enforcement.   
The EBAFOSA compliance standard, which is based on the ISO & relevant National Standards, aims to standardize products & processes for quality control along the entire EBA based, clean energy powered agro-industrialization chain. The objective is to create a market niche for agro-products - both fresh & processed - produced using nature based & environmentally sustainable approaches. Specifically, grown using ecosystems enhancing nature based EBA approaches that are also organic; processed using clean energy to minimize emissions which are also a source of pollution; linked to markets using ICT to reduce the carbon print of otherwise paper based processes & quality & safety aspects integrated along all these processes. 
For each of these categories, internationally recognized standards for EBA, organics, clean energy, ICT, safety & quality are used to compute the requisite benchmarks and convened under one standard - the EBAFOSA compliance. 

EBAFOSA compliant products can then be branded & marketed as environmentally friendly & geared to fetch a premium in Africa and in global markets where sustainability is a premium consideration. 

Effective enforcement is critical to achieve the ultimate aims of this standard. EBAFOSA standard proposes to use bar-codes & physical evaluation to actualize enforcement. 

Drawing from the above, the debate can focus on the contribution of standards to markets & growth and how effective enforcement can be achieved within the context of EBAFOSA. 

Questions 

1) What role can standards play in developing a consolidated African market? 

2) How can an EBAFOSA standard contribute to consolidate an African market for agro-products? 

3) How can the EBAFOSA compliance standard be promoted for adoption by producers in Africa? 

4) How can standardization be a job creator / contribute to job creation in Africa? 

5) What are some effective techniques for standards enforcement applied across the globe? 

6) How can youth be drivers of standards promotion & enforcement across Africa? 
Join the debate on twitter
EVERY THURSDAY
2pm - 6pm East Africa Time
EBAFOSA DEBATE- 
Answering to the call of innovative volunteerism to drive transformational climate action
Moderator
Debate moderated by
Richard Munang,