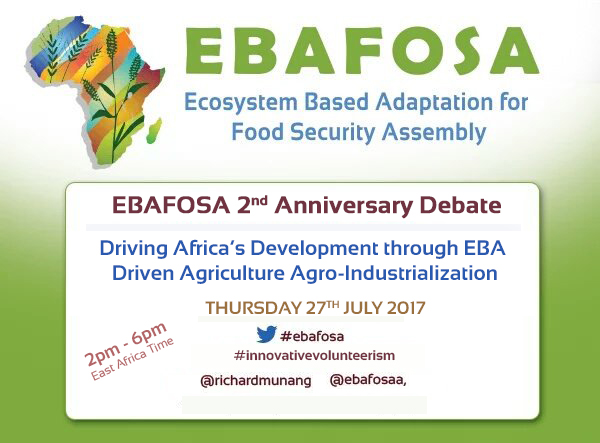 Debate context
Introduction:
Amalgamating Clean Energy and EBA Driven Agriculture as complementary as opposed to in silos towards establishing sustainable agriculture led, clean energy powered industrialization has potential to accelerate socioeconomic transformation in the continent.
This is because the synergy in this amalgamation satisfies 3 key criteria. First, is economic inclusion. Agriculture is the most accessible economic sector that employs the majority of Africa's work force. Maximizing its productivity means enhancing income & economic opportunities for the majority in the continent. Secondly, Africa holds a comparative advantage in clean energy and agriculture.65% of global arable land coupled with the best solar resource among other viable clean energy sources including wind, hydro, geothermal are all in Africa. By leveraging these resources in complementarity, Africa can establish global competitiveness, and create the much needed wealth and jobs for the youth. Thirdly, maximizing their productivity will met leading socioeconomic development priorities of actualizing food security, enhancing income & job opportunities and expansion of macroeconomic growth simultaneously offsetting carbon and enhancing productivity of ecosystems to meet the continents' climate objective. Based on the above, clean energy & EBA Driven Agriculture are Africa untapped cash cow capable of accelerating socioeconomic transformation.
To enable this amalgamation of Clean Energy and EBA Driven Agriculture, enablers are needed and these includes standardization to incentive markets, innovative financing, policy harmonization among key intervening services at policy & ground level including Information Communication Technology (ICT) to enable efficient connections to markets. The Ecosystem based Adaptation for Food Security Assembly in Africa (www.EBAFOSA.org) has been focusing on the above and going ahead, youth need to increasingly be the driving force in domesticating and rallying the needed impetus behind this. Premised on the spirit of Innovative Volunteerism, EBAFOSA is an inclusive pan-African policy framework and an implementation platform for the Youth to create wealth, jobs & offers entrepreneurial opportunities for everyone now and into the future.  To catalyze the momentum of what EBAFOASA has already done to-date; this debate seeks to inject new innovative ideas on how the youth can take this inclusive approach to drive Africa's development for wealth and job creation for all.
How can youth increasingly tap into Innovative Volunteerism and drive amalgamation Clean Energy and EBA Driven Agriculture for wealth creation for themselves?

What do you think needs to be done to ensure Innovative Volunteerism becomes the common denominator in driving Africa's development?

 

What incentives are needed to incentivize Africa's youth towards innovative volunteerism?
You can also join debate by commenting below
Join the debate on twitter
EVERY THURSDAY
2pm - 6pm East Africa Time
EBAFOSA DEBATE- 
Answering to the call of innovative volunteerism to drive transformational climate action
Moderator
Debate moderated by
Richard Munang,