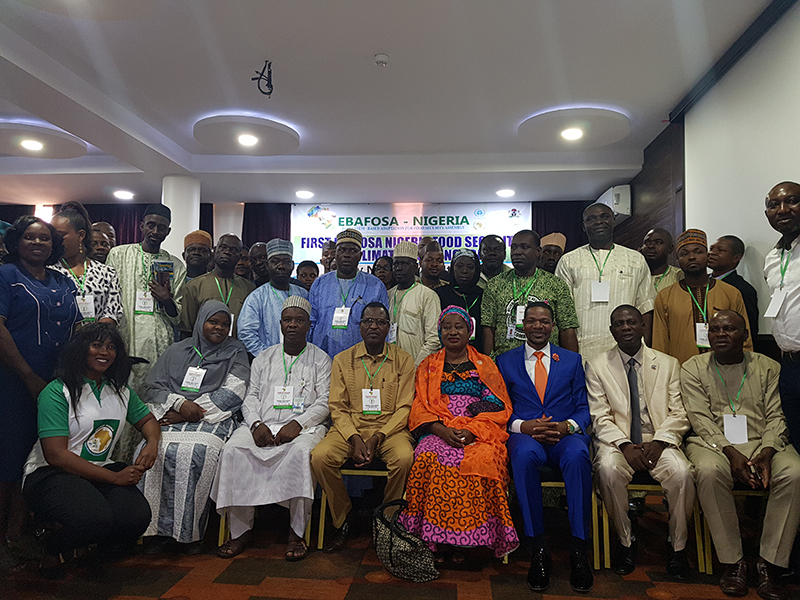 Offshoots from EBAFOSA Nigeria National Day of Climate Resilience Food Security and Innovative Volunteerism
On 24th November 2017, EBAFOSA Nigeria commemorated their 1st National day of Climate Resilience & innovative volunteerism with objectives to take stock of progress made in the past year and leverage it to promote EBAFOSA as the priority initiative that will accelerate socioeconomic transformation in Nigeria through the implementation of Nigeria's Nationally Determined Contributions (NDCs) commitments under the Paris Agreement. The strategic thrust behind the EBAFOSA Modus operandi is to establish EBA-Driven Agriculture led, clean energy powered agro-industrial zones.Five strategic achievements were discussed and shared with stakeholders drawn from government, academia, private sector & non-governmental organizations.
First, on enabling NDCs implementation policies, the EBAFOSA Nigeria Inter-Agency policy harmonization task force was officially inaugurated. The task force which is already operational is hosted & chaired by the Ministry of Environment with co-chairs being the Ministry of Budgets, Planning & Coordination and the Ministry of Agriculture. This task force has put in place formal working arrangements and is engaging other critical ministries to drive NDCs implementation focusing on establishment of EBA-Driven Agriculture led, clean energy powered agro-industrial zones. The aim of this inter agency task force is to create an enabling policy environment for NDCs implementation spanning all the critical ministries.
Secondly in following up on the above, the Ministry of Environment announced it had integrated EBAFOSA into its budget as a framework to implement Nigeria's NDCs. The incentive for the Ministry was in line with section 5 of the Paris Agreement – where EBAFOSA Nigeria having mobilized multiple state & non-state actors critical to NDCs implementation offers a low risk implementation platform for the Ministry. The Ministry through the Director of Climate Change lauded EBAFOSA's innovative approach ensuring climate action becomes a socioeconomic opportunity ensuring not only enhanced ecosystems & mitigated carbon but wealth creation as well – priorities that cut across the entire government.  He remarked that it was the first time the Ministry was allocating a budget to work through a grand initiative for NDCs implementation and expressed confidence in its success.
The third success discussed was on innovative financing where the UNEP EBAFOSA Nigeria / Nigeria Incentive Based Risk Sharing Facility for Agricultural Lending (NIRSAL) partnerships was inaugurated. In this partnership, UNEP EBAFOSA, and the Central Bank of Nigeria NIRSAL are collaborating to enhance capacity of the existing risk sharing facilities by integrating Ecosystems Based Adaptation (EBA) as an additional risk averter to de-risk the entire agro-value chain in Nigeria – specifically covering the climate induced crop failure risk by leveraging on EBA. This collaboration is set to catalyse flow of private finance & capital to upscale EBA – providing market driven incentive to upscale EBA. The objective is to move EBA from being applied in subsistence farming to commercially driven, where NIRSAL provides commercialization capital for EBA. And by this achieve sustainable financing for climate adaptation & upscaling nature based, sustainable EBA-Driven Agriculture approaches – both which are Nigeria's NDCs priorities. Work is starting off at the pilot phase where focus is de-risking on-farm / farm level production enterprises. The flagship crop is cassava which has been prioritized for scaling and for which an appropriate policy for scaling – the cassava bread policy exists. Through this collaboration, the government of Nigeria will not only be implementing its NDCs, but also enhancing operationalization of its ground-breaking cassava bread policy meant to maximize the earnings of the cassava crop for wealth creation. Nigeria is the largest cassava producer globally & this crop has been earmarked as being a strategic economic asset for Nigeria. The next phase of this collaboration will focus on financing the post-farm gate value chain where focus will move to include financing for clean energy systems powering agro-processing & ICT for low-carbon market & supply chain linkages to meet Nigeria's mitigation priorities & create additional wealth opportunities. The NIRSAL team and the EBAFOSA Nigeria actors led in expounding this partnership and concluded by noting that this collaboration was a win-win for both UNEP EBAFOSA & NIRSAL. For UNEP, it is moving the climate finance discussions from classical "climate financing as a need" to discussing value chains that can generate financing. Where first start finance becomes an investment to generate more market driven finances that are sustainable. From a NIRSAL perspective, this collaboration will enhance NIRSAL aims of moving agriculture from being a culture to being a business by further minimizing agro-value chain risks – specifically climate induced crop failure risk which will now be covered by EBA and  this incentivize more agro-related businesses.
Fourth and still related to innovative financing, the Director of Climate Change also announced that the Nigeria Green Bonds initiative – the first of its kind in Africa to implement climate actions, will work with the UNEP EBAFOSA Nigeria to operationalize the green bonds fund. The Director explained that the aim of the green bond was for the government to raise capital to invest in green enterprises capable of meeting Nigeria's NDCs simultaneously with creating income opportunities given that the market for fossil fuels was dwindling & the globe was moving towards cleaner investments. To this end, he announced that UNEP EBAFOSA will be prioritized as a mechanism for identifying & managing the enterprises where the green bonds money will be invested. With already ongoing enterprises operating and the establishment of the risk sharing facility, EBAFOSA was lauded as a low risk platform on which the green bond proceeds could be invested for maximized returns for the government & investors of the green bond.
Fifth, EBAFOSA Nigeria launched the first phase of the Information Communication Technology (ICT) application that will integrate processes, products & services along the entire EBA-Driven Agriculture led clean energy powered agro-industrialization value and supply chain in Nigeria – called M-eBAFOSA Nigeria. All the actions discussed above – including the financing from NIRSAL & the green bonds will be channelled through this application where enterprises will be mapped and linked to markets & complementary supply chains to ensure profitability.      
The National Day of resilience in Nigeria demonstrated how different actors – state & non-state as called for under Section 5 of the Paris Agreement & SDG 17, can define their niche in the paradigm of low emissions development. And in the process, contribute to furtherance of the SDGs & Paris Agreement objectives. 
Next steps
1.     At the operational level, from the partnerships mobilized during the event, the EBAFOSA Nigeria will ramp up operationalization of the cassava value chain for wealth creation & scaling of EBA leveraging on the risk sharing model to be run by NIRSAL.
2.      At the policy level, partnerships generated at the event will be channeled to expedite the work of synchronizing policies for NDCs implementation in a manner that unlocks income opportunities – building on what will be ongoing with the cassava value chains actions as ground actions to validate policies.
3.      EBAFOSA focal points stationed in all the states to continue mobilization of additional actors to enhance driving the above actions. This will be through the M-eBAFOSA Nigeria application which will map these actors and facilitate seamless and frictionless interactions between them towards bridging gaps & establishing enterprises that create income & implement Nigeria NDCs – especially priorities on greening agriculture where EBA will be up-scaled & clean energy – especially for powering various levels of agro-value addition.
EBAFOSA Nigeria becomes the 4th National branch to commemorate their first anniversary.
Congratulations EBAFOSA Nigeria!
Related Items:
Highlights
By fostering an inclusive approach that leverages the relative strengths of all levels of a diverse field of stakeholders, EBAFOSA ensures a wide...
Thursday, 26 May 2011
Find link below for EBAFOSA Benefits Powerpoint Presentation
Link >>
...
Sunday, 07 February 2016
CONSTITUTION OF THE ECOSYSTEM-BASED ADAPTATION FOR FOOD SECURITY ASSEMBLY The EBAFOSA mandate is guided by a constitution, rules of procedure and...
Thursday, 26 May 2011