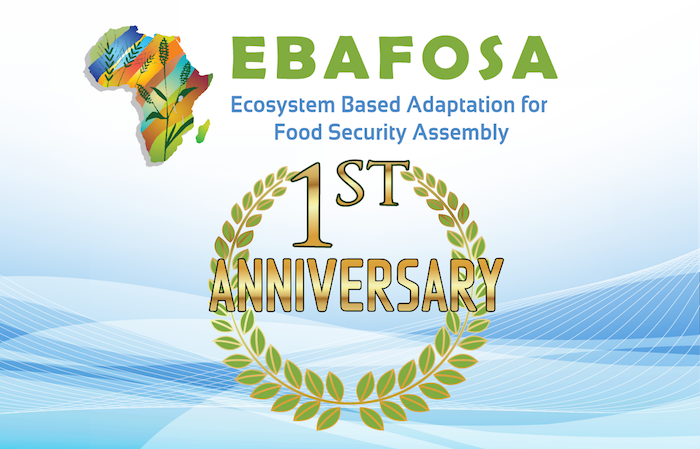 Today marks 366 days and because of what you are doing we have come a long way since the formal establishment of EBAFOSA in 31st July 2015.  

Your strength, tenacity, and dedication has been admirable, and we have all encouraged each other to take the next step, and to date, EBAFOSA is established in 40 countries and growing, and we have launched 8 branches and many more are lined up in the coming weeks.  As you all know, EBAFOSA is premised on an idea attracting money and not the other way round.

I am calling on each and everyone of you to keep the momentum. We have brighter days ahead. I am calling on all of you to keep  the sacrifice by working hard on voluntarily basis.

It will also call for acting strategically, by identifying and mobilizing on-going initiatives along the entire agro-value chain that address EBAFOSA intervention areas (agro-industry, market linkages, optimizing on-farm production, value addition, agro-financing, ecological production etc) by government, private sector, academia, development partners etc, in your country, and recruiting them into EBAFOSA by demonstrating EBAFOSA added advantage to them (use EBAFOSA benefits document), and fomenting memberships and  partnerships as laid out in the phases 1 & 2.

 Voluntary work now is helping to optimize our approaches, and is training ground to maximize EBAFOSA impactfulness.
Related Items:
Highlights
By fostering an inclusive approach that leverages the relative strengths of all levels of a diverse field of stakeholders, EBAFOSA ensures a wide...
Thursday, 26 May 2011
Find link below for EBAFOSA Benefits Powerpoint Presentation
Link >>
...
Sunday, 07 February 2016
CONSTITUTION OF THE ECOSYSTEM-BASED ADAPTATION FOR FOOD SECURITY ASSEMBLY The EBAFOSA mandate is guided by a constitution, rules of procedure and...
Thursday, 26 May 2011